Draft coverage: Picks and grades | Prospect Rankings | Sam goes No. 249 | News
Am I going soft when I give out one "A-plus" grade, three "A" grades and no grades of F?
Then call me soft as I grade the 2014 NFL Draft.
I handed out the A-plus to the St. Louis Rams, who owned the draft from their first pick, second overall, to their second-to-last pick when they took defensive end Michael Sam, the first openly gay player to be drafted.
Rams general manager Les Snead, loaded with two first-round picks, landed tackle Greg Robinson and defensive tackle Aaron Donald with those picks. They are two of the top-10 players in the draft.
He followed that up by picking a bunch of quality players up and down the board. The Rams' roster is now impressive and they might be ready to compete in the tough NFC West.
The A grades went to the Chicago Bears, Jacksonville Jaguars and Minnesota Vikings. I loved what they all did.
While there were no Fs, I did give the Carolina Panthers a D because I didn't like their draft much at all.
When the Panthers have two Pro Bowl players from this draft three years from now, I will look stupid for these instant grades. But isn't that the fun of it: Paralysis by instant analysis?
Arizona Cardinals: Safety Deone Bucannon will add toughness to the secondary and Troy Niklas is the blocking tight end Bruce Arians likes. They must love the arm of fifth-round quarterback Logan Thomas, but he needs work. Grade: B
Atlanta Falcons: They addressed a lot of needs with their picks, including getting a top tackle in Jake Matthews. The second- and third round picks will both be rookie contributors. Grade: B-plus
Baltimore Ravens: As they often do, the Ravens picked up a lot of quality players. I liked the second-round pick of defensive tackle Tim Jernigan and third-round tight end Crockett Gilmore. Grade: B
Buffalo Bills: I love Sammy Watkins as a player, but giving up next year's first-round pick to get him is steep. That could be costly if they don't improve in a big way. Cyrus Kouandjio has to transition from the left side to the right, but he can do it. The price to get Watkins drives the grade down. Grade: C
Carolina Panthers: Their draft was puzzling to me. Why not a left tackle? Is Byron Bell the answer? Kelvin Benjamin is a big receiver, but I liked others more. Why draft a defensive end with so many other needs? Grade: D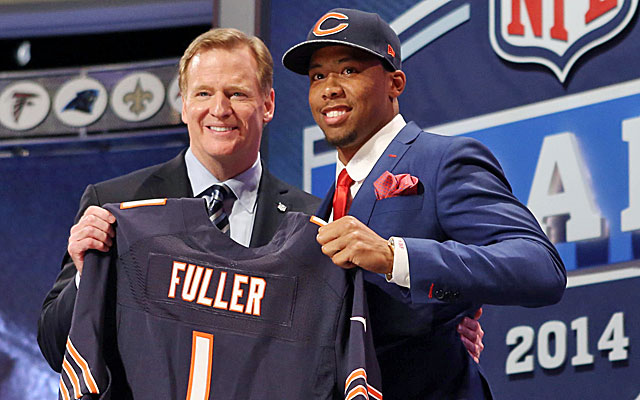 First-round corner Kyle Fuller is a great pick for the Chicago Bears. (USATSI)
Chicago Bears: The Bears drafted a lot of players that fit their needs on defense. I really liked what they did. First-round corner Kyle Fuller was the best in this class in my mind. Following that up with two defensive tackles was smart. Grade: A
Cincinnati Bengals: I liked Darqueze Dennard in the first round to compete at corner, but didn't like the choice of a big back in Jeremy Hill in the second. Don't think for a minute A.J. McCarron, their fifth-round pick, will take Andy Dalton's job. It's a backup thing. Grade: C-plus
Cleveland Browns: I loved the move to go up and get Johnny Manziel in the first, but why pass on receiver with the Josh Gordon situation? I don't get that at all. They took a corner with their first first-round pick Justin Gilbert instead of a receiver. That drops the grade for me. They did get a 2015 first-round pick from Buffalo. Grade: B-minus
Dallas Cowboys: They wisely passed on Manziel to take guard Zack Martin to solidify their line. I liked the trade up to get defensive end Demarcus Lawrence in the second as well. That was must-get in this draft. Grade: B
Denver Broncos: John Elway had another nice haul. First-round corner Bradley Roby was my second-ranked corner and the addition of receiver Cody Latimer in the second was a nice move. Grade: B-plus
Detroit Lions: I like Eric Ebron as a player, but that was a luxury pick for a team that has so many other needs. Why not a corner? I do like a lot of their other picks, but that first one drops the grade down. Grade: B-
Green Bay Packers: Getting safety Ha Ha Clinton-Dix was a must to upgrade the speed and range on the back end. They followed that up with some solid choices, including second-round receiver Davonte Adams. Grade: B
Houston Texans: Taking Jadeveon Clowney was a no-brainer with the top pick, but why wait to take a quarterback until the fourth? They did a nice job picking players for the defensive line. Grade: B-plus
Indianapolis Colts: They didn't have a first-round pick because of the trade for running back Trent Richardson, which drops the grade down. I really love third-round pick Donte Moncrief, a receiver from Mississippi. Grade: C
Jacksonville Jaguars: I am in the minority, but I love the pick of Blake Bortles at No. 3. They had to get a quarterback. They followed that up with a lot of help for an offense that needed it. Impressive. Grade: A
Kansas City Chiefs: The pick of outside linebacker Dee Ford in the first was strange for me with other needs, unless they are dumping Tamba Hali next year, which is possible. I liked the pick of corner Philip Gaines (third) and loved the pick of Aaron Murray in the fifth. Grade: C-plus
Miami Dolphins: They needed offensive line help, and they got it with two picks in the first three rounds on lineman. Question is: Did they get the right one in the first round with tackle Ja'Wuan James. I didn't like the pick of Jarvis Landry in the second. Grade: C
Minnesota Vikings: For the second consecutive year, the Vikings did a nice job with the draft. They landed pass rusher Anthony Barr with their first-round pick, then traded back into the round to get quarterback Teddy Bridgewater. Keep an eye on sixth-round corner Antone Exum. Grade: A
New England Patriots: I know first-round pick Dominique Easley is a risk with double knee surgery, but he is worth it. I didn't like the pick of quarterback Jimmy Garoppolo in the second. With the window closing on Tom Brady, get him some more players. Try to win now. Grade: B-minus
New Orleans Saints: The Saints needed to get speed and first-round receiver Brandin Cooks will add it. I like second-round corner Stanley Jean-Baptiste, a bigger corner. They went heavy on defense. Grade: B
New York Giants: Taking a receiver in the first in Odell Beckham might surprise, but they need help to free up Victor Cruz in the offense. Second-round center Weston Richburg was a good pick. Grade: C-plus
New York Jets: I like big-hitting safety Calvin Pryor to fill a major need, but I didn't like tight end Jace Amaro in the second. Fourth-round slot receiver Jalen Saunders could be a steal. Grade: C
Oakland Raiders: If they hit on second-round quarterback Derek Carr, this could be a huge draft for them. That's a big if. First-round pick Khalil Mack will be a pass-rush star. Reggie McKenzie did a nice job with his first four picks. Grade: B
Philadelphia Eagles: They took pass rusher Marcus Smith in the first round because they saw a shrinking market there. I really like third-round receiver Josh Huff and fourth-round corner Jaylen Watkins. Grade: B-plus
Pittsburgh Steelers: I loved the pick of linebacker Ryan Shazier in the first for the speed he will bring. Fourth-round receiver Martavis Bryant is bigger receiver, which the Steelers need. Grade: B
St. Louis Rams: General manager Les Snead killed the draft. He was loaded with extra picks the past two years, but hit on a bunch. I mentioned his first two as picks I liked, but I also liked second-round corner Lamarcus Joyner. Grade: A-plus
San Diego Chargers: They needed a corner and a pass rusher and used their first two picks to get them in Jason Verrett and Jeremiah Attaochu. They also added a nice back late in Marlon Grice. Grade: B-minus
San Francisco 49ers: I like Jimmie Ward in the first round, but they took some chance picks as well that could be boom-or-bust. I didn't like the pick of the back in the second round. This is a front office that knows what it's doing. Grade: B
Seattle Seahawks: The Seahawks traded out of the first round to add picks and added a lot of good players. Second-round receiver Paul Richardson can fly and I love fourth-round picks Cassius Marsh and Kevin Norwood. Grade: B-plus
Tampa Bay Buccaneers: They needed to get weapons on offense and they did with their first three picks, including first-round receiver Mike Evans. I really like second-round tight end Austin Seferian-Jenkins. Grade: B+
Tennessee Titans: Taking tackle Taylor Lewan with two solid tackles was sticking to the board. I didn't like it, and then they followed it up by taking a back (Bishop Sankey) in the second round, which was too high. Grade: C-minus
Washington Redskins: They have edge rushers, so second-round pick Trent Murphy is a nice backup who can also be part of a package with all three of them on the field. I like third-round tackle Morgan Moses and fourth-round corner Bashaud Breeland. Not having a first-round pick, lost in the trade for Robert Griffin III, hurt. Grade: B-minus