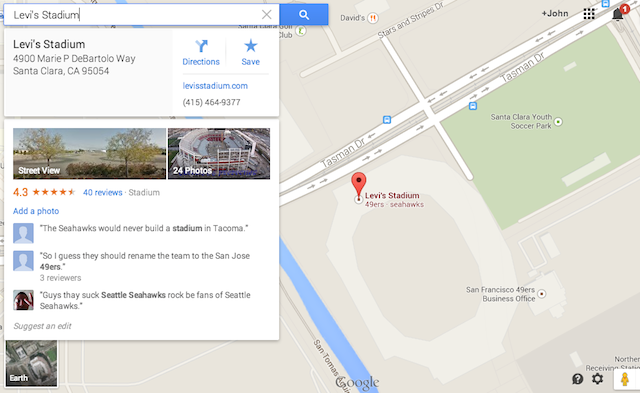 Are the 49ers or Seahawks playing at Levi's Stadium? Or both? (Google Maps)
Apparently everything in the Bay Area belongs to the Seahawks. First, the transit system in San Francisco changed its seats to Seattle's colors, now Google Maps is saying that the 49ers new stadium in Santa Clara is the Seahawks new stadium too.
Google knows everything, so we'll just have to go with their word on this.
Just in case you're wondering what the 49ers new stadium would look like in Seahawks colors, someone on the internet went ahead and took care of that for you.
Seattle fan trolls @49ers by re-designing Levi's Stadium in Seahawks colors. Note the scoreboard (via @mrtommygman) pic.twitter.com/7SDQJDlOK9

— Mike Rosenberg (@RosenbergMerc) April 22, 2014
(Wink of the CBS Eye to Mike Rosenberg)