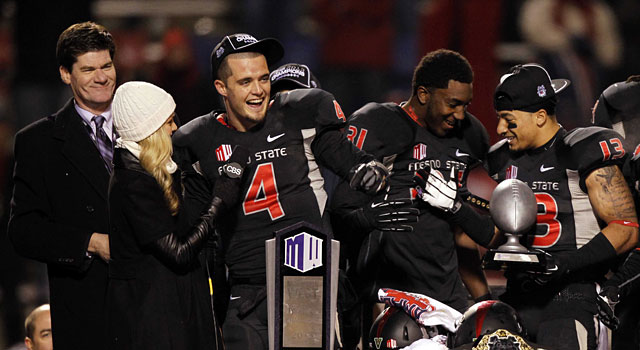 Fresno State hosted last year's Mountain West championship game.

(USATSI)
More college football: Jon Solomon | Dennis Dodd | Jeremy Fowler | Latest news
The Mountain West athletic directors have recommended using the College Football Playoff selection committee poll as a way of determining home field for its conference championship game.
The MWC is entering the second season of a 12-team, two-division configuration. Similar to what the Pac-12 had previously done, it places the championship game at the site of the highest-ranked division winner. Last year the MWC game was played at Fresno State using the BCS standings at the time. With the end of the BCS, it was determined the 13-person selection committee's weekly poll will be involved as a metric. It was determined only last month that the CFP top 25 poll would be produced weekly beginning Oct. 28 through the last regular-season Saturday on Dec. 6.
If neither division winner is ranked by the selection committee, then the highest-ranked team among the six old BCS computers – Wolfe, Anderson/Hester, Billingsley, Colley, Massey, Sagarin --- will host the game. Last year, Fresno hosted because it was ranked No. 20 in the BCS. West Division opponent Utah State was not ranked.
If one division champion is ranked in the CFP selection committee poll but drops out after losing its final regular-season game then according to an MWC document "the site of the championship game shall be determined via a comparison of the composite computer rankings for the two divisional champions …"
The recommendation is expected to be approved by the MWC board of directors during meetings June 1-3 in Colorado Springs.
The ADs also addressed UNLV's postseason ban because of APR deficiencies. If the Rebels win the West Division they will be ineligible for the conference title game. According to the document "the next best team" in the division would be compared to the Mountain Division champion to determine the host site.
Part of the idea of relying on the selection committee is getting the highest-ranked MWC champion possible in competition for a New Year's Six bowl. Beginning this year, the highest ranked team among the Group of Five – MAC, Conference USA, Mountain West, Sun Belt, American -- will get an automatic berth in one of three bowls – Cotton, Peach, Fiesta. The only way that Group of Five qualifier would play in the Orange, Rose or Sugar is if that team made the playoff (top four) at the time any one of those bowls passed through as national semifinals. Otherwise, the Orange, Sugar and Rose are so-called "contract bowls" committed to deals with the Big Five conferences (Big 12, Pac-12, ACC, SEC, Big Ten).
The Pac-12 is moving to a neutral site this year for its championship game, Levi's Stadium in Santa Clara, Calif.